When looking for South Surrey bathroom renovations you don't have to look further than Rennovarea, a small contractor that goes the extra mile to get the job done right and exceed your expectations through the work we do.
We would love the opportunity to prove our expertise in bathroom renovations. From the work we do and our many happy customers, we are eager to help you and get started creating the bathroom you've always dreamed of.
We take a lot of pride in the work that we do, and we think it shows. We have worked with several condos and homes throughout the area for bathroom renovations in South Surrey.
Let's get started by discussing how we can help you with your next project. We work with you every step of the way to get the most from your bathroom renovation and look forward to working with you.
South Surrey Bathroom Renovation Services
– Tiling (shower)
– Bathroom flooring (tile, vinyl, wood, stone, ceramic, porcelain, hardwood, and laminate)
– Shower installation
– Vanity and cabinet installation
– Sink, toilet, And bathtub installation
– Medicine cabinet installation
– Lighting installation and updates
– Plumbing and fixture installation
We can help with tub to shower conversions, painting, and just about any bathroom makeover or remodel that you have in mind. We can offer advice on how to go about upgrading your vanity, fixtures, faucets and flooring to make the most of your renovation.
Examples of Bathroom Renovations by RennovArea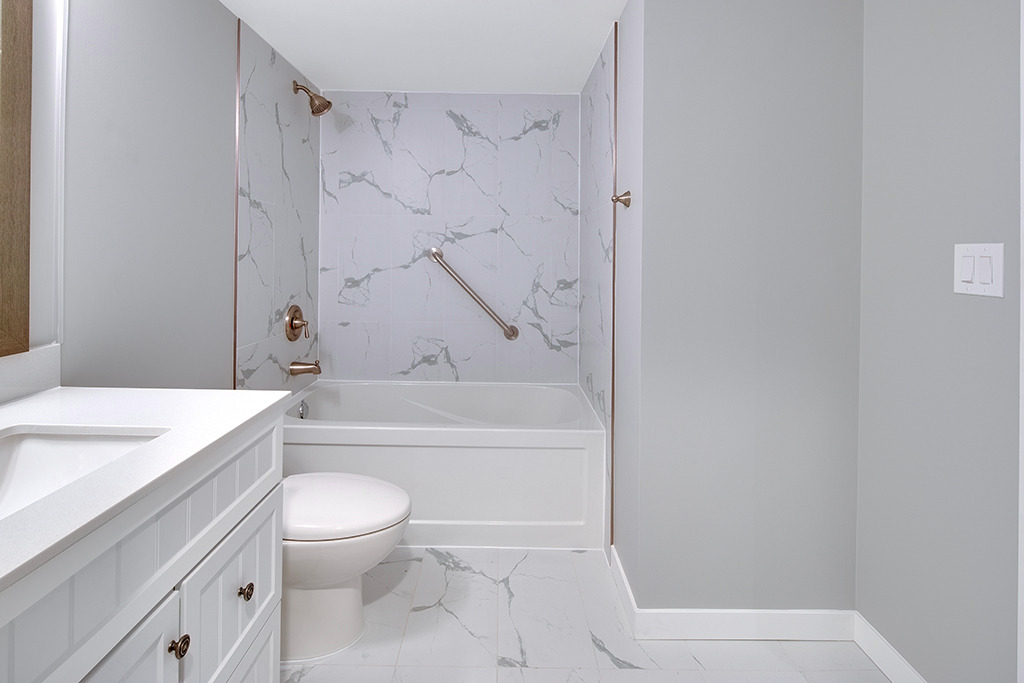 We are the experts when it comes to taking an outdated look to create a new space you can proudly call home. Our experience with bathroom remodelling shows in the results. If you live in South Surrey and have been thinking about bathroom renovations, we recommend that you call RennovArea, even if you are still in the planning phase. Let our experience work for you as you plan costs and more.
To see more of our work, please visit our gallery, where we show some amazing examples that transforms a dated bathroom or kitchen to a modern new look.
Contact us today for a free no obligation quote.