Learn why Rennovarea is the right choice for Burnaby bathroom renovations.
---
If you are looking for Burnaby bathroom renovations, allow us to tell you why Rennovarea is your partner for your next project. We not only work for you, we work with you. That means we will share our expertise what could work to help you create the space you've dreamed about.
With our expertise in bathroom renovations, demonstrated by the work we do and many happy customers, we can help you to get started and create the bathroom you've dreamed of. Rennovarea bathroom renovations in Burnaby BC provide the peace of mind you want in a contractor to get the job done right.
At Rennovarea, bathroom renovations in Burnaby is just part of what we do, but it's also our specialty. You take pride in your home and your bathroom should be no different. It's one of the most used spaces and should have all the considerations that many other rooms get.
Our bathroom renovations in Burnaby will not only exceed your expectations, we make it easy for you by taking care of all your needs. From any required permits to the specialists needed to get the job done right, we have worked with many for bathroom renovations in Burnaby BC and throughout the area.
Types of Bathroom Renovations in Burnaby
We can provide a variety of remodelling and renovation options to upgrade your bathroom or provide custom requests for your bathroom home improvement project.
Bathroom renovations can include:
Replace vanity
New flooring
Replace tub or shower
New tiles for floor or shower
New shower stall
Recessed medicine cabinet
Improved lighting
New fixtures
New sink or toilet
Change countertop
Custom renovations
Burnaby's bathroom and home renovations by Rennovarea can add value and be an investment in your home. We take the guess work out of doing the job right and work with you with you every step of the way. Our specialists in plumbing, electrical and more can help you with any bathroom renovation requests you may have to create the look you want or accommodate any needs you may have.
Bathroom Renovation Examples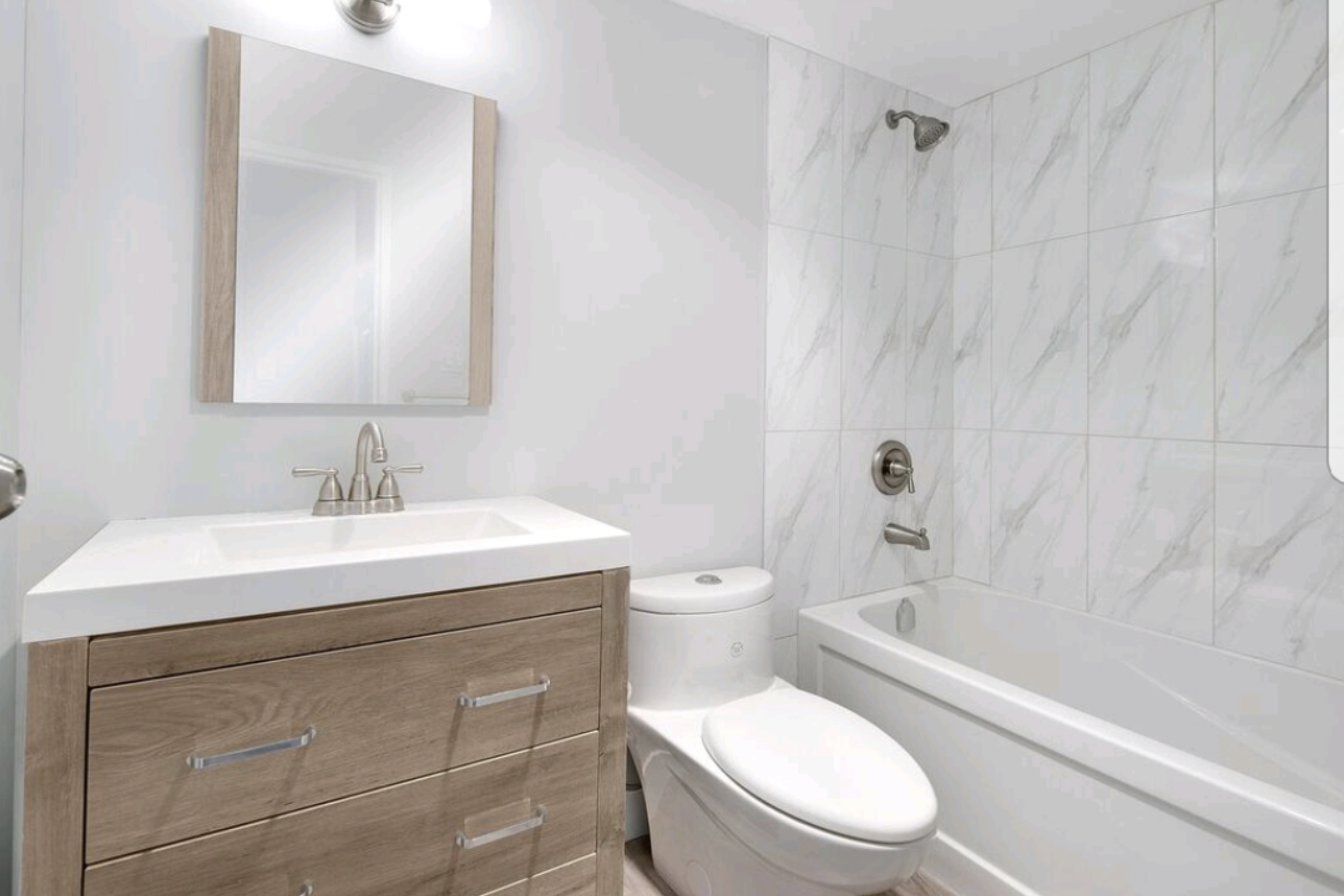 Maybe you have always wanted glass shower doors or a floating vanity cabinet. Perhaps you want new flooring with a radiant-heat system installed underneath. Maybe you want a bathroom shower bench for a more luxurious look and feel.
Burnaby Bathroom Renovation Design
We can help create an efficient bathroom layout, or if you are more concerned with an economic renovation, we would advise to not move anything that might require additional plumbing or electrical work. But this can also depend on knowing your desired outcome, along with your budget.
A Burnaby bathroom renovation starts with your vision. When we understand your needs, along with what you might hope from a remodel, it allows us to work with you to recommend materials, custom work, special orders or cost cutting methods that align with your needs.
Through our experience we can also help you plan to get the most out of your renovation. If you have chargeable devices like shavers or electric toothbrushes, we might advise installing electrical outlets inside cabinets or drawers. It's little details like this that haThis makes for less counter clutter and a cleaner finish.
Some of our Burnaby clients and others have requested a shower niche when tiling the shower area, which allows you to store things like shampoo and do away with a shower shelf or caddy. It also creates a more sophisticated look for your bathroom.
The lavatory or bathroom is one of the most used rooms in your home and making it the way you want is more than an investment, it can make a difference you and your family will really notice and appreciate.
Our ability to create stunning results with your bathroom renovation in Burnaby will be nothing short of remarkable by the time we are done. Let us show you with your next project.
Located near Vancouver, New Westminster and Port Moody, a bathroom renovation by RennovArea is your best bet for creating an upgrade you'll enjoy for years.
To see more of our work, please visit our gallery, where we show some amazing examples that transforms a dated bathroom or kitchen to a modern new look.
Make the right choice with Rennovarea and contact the Burnaby bathroom renovation specialists today!